London Workshop 2013
Babylon kicked off its 7th edition with an intensive script development workshop over four days (October 16-19), hosted by Scenario Films in London.
14 projects were selected from Austria, Germany, Croatia and the UK. Participants worked closely with consultants Tony Dennis, Gareth Jones and Fiona Howe, combining script analysis in small groups with one-to-one discussions, informal pitching, screenings and discussions, plus case studies and lectures by industry professionals.
Thanks to Piers Nightingale of Highpoint Media for his lecture on the role of the sales agent in getting films produced, sold and seen; to Ciaran Bermingham, writer and former BBC copyright department specialist for his talk on copyright protection and for his script editorial input; and to producer Mamta Kaash for her script feedback to the groups.
Thanks to Sonal Hansora and Helena Cook for production assistance, and to Sonal Hansora for photographing the event.
Thanks also to Helena McKenzie and Jennifer Corcoran of Film London who hosted Babylon producer participants at the Production Finance Market, where the pros and cons of Crowd Funding were addressed by John Grobstein (Wefund), Olivier Kaempfer (Parkville Pictures) and Gavin Humphries (Quark Films), and a case study was given by director Ben Russell and producer Nadia Turincev about their film A Spell to Ward Off the Darkness screened at this year's BFI London Film Festival.
Babylon is funded in 2013-14 by the MFG-Baden-Württemberg (Germany), Filmfonds Wien (Austria), HAVC (Croatia) and BABYLON founder-directors Scenario Films Ltd London, and produced in association with Witcraft/Diverse Geschichten, Vienna.

Babylon Europe 2013 Group: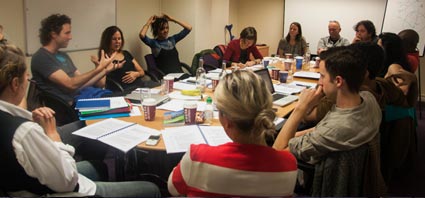 Daniel Beres, Fiona Howe, Elsa O'Toole, Sigrid Faltin, Natasa Mihoci, Borut Separovic, Marjan Alcevski, Julian Grass, Irena Skoric, Vivien Makovic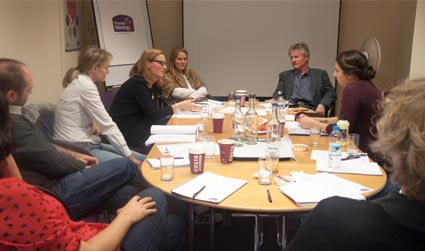 Dietmar Ratsch, Nicole Armbruster, Gerlinde Seitner, Karin Franz, Gareth Jones, Alexandra Makarova


Marjan Alcevski, Tony Dennis





Marjan Alcevski, Gareth Jones, Barbara Anticevic, Tony Dennis, Ciaran Bermingham







Natasa Mihoci, Borut Separovic







Gareth Jones, Alexandra Makarova







Jasmina Hajdany







Daniel Beres, Barbara Anticevic, Jasmina Hajdany, Arek Gielnik







Julian Grass, Elsa O'Toole







Barbara Anticevic, Gareth Jones, Tony Dennis, Ciaran Bermingham, Jasmina Hajdany, Daniel Beres, Elsa O'Toole, Mamta Kaash







Karin Franz, Gareth Jones







Irena Skoric







Marjan Alcevski







Tony Dennis




Feedback on London 2013 from our participants:
"These days were very inspiring and stirred up a lot of emotions...my group were all extremely supportive and gave very precise advice...thank you very much for letting me be part of this wonderful journey."
"I appreciated that we came back to our projects every day, because in between we could reflect on the remarks...It is a privilege to have small groups. It makes the work much more intense."
"I loved the environment in which the workshop took place... I trusted the feedback of every person at the table!"
"I love Babylon! ... Not only is your expertise useful and helpful, the atmosphere and relationships have made this experience easy while it is very productive...I truly enjoyed being here. Plus, we all love smart people and there's lots of those at Babylon this year."
"Positive atmosphere, participants, great group, engaging discussions, very useful in general, one-to-one sessions especially, lectures also interesting."
"Hot housing-filmic projects in a safe, yet challenging arena... I arrived at Babylon without understanding which road I should take with my film. I left understanding I don't have to take a road, I can swim, fly and dream my journey... as long as I write and work harder than I've ever done before...it was/is invaluable... thank you."
"Our group was fabulous, respectful, creative and supportive. Good selection! I liked especially that people like producers and funders were attending!"
"Loved it!... I thought I'd rather go to the dentist's than have someone criticizing my text... but the people at Babylon were great so the process didn't hurt at all... Ideas, advice and insights were beyond useful because I was forced to look at it from different angles and perspectives, can't wait to start rewriting!"
"Our consultants were great and we benefitted a lot during this workshop...We met a lot of great 'Babylonians', who share the same enthusiastic creative verve as us."
"For us it is important to know which points in the theme of the film are most important to show... and the discussions and group sessions help us to see it clearly."
"Super group, everyone highly motivated."
"...By the end of day four we arrived at a really convincing and workable structure...the mixture of one-to-one consultations and group work really helped... inspiring atmosphere."
"Thank you for the wonderful management of the sessions... the close and intimate atmosphere of the group really helped us analyze the intention of the film and find a new perspective."